The Conservation Department of the Palais des Papes works for the preservation, restoration and restitution to the public of actions that are part of an approach to enhance the monument, since its opening to the public at the beginning of the 1995th century. . Classified as a historical monument, listed as a UNESCO heritage site since 700.000, the Palais des Papes is today one of the most visited French monuments and welcomes nearly XNUMX visitors each year.
Major restoration projects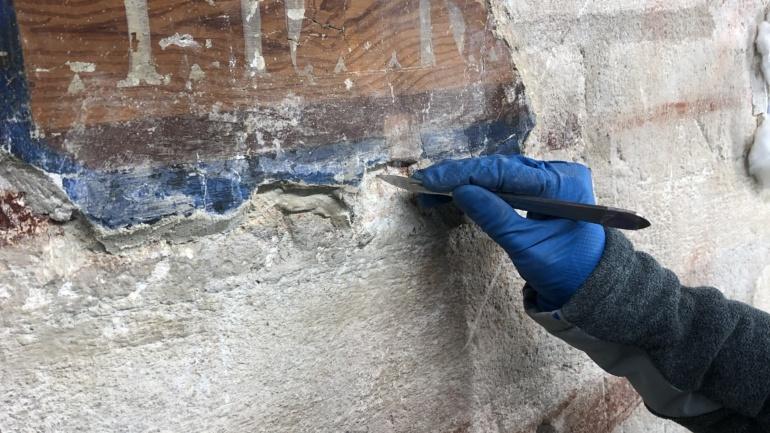 Regularly, with the support of communities and institutions, the Conservation Department accompanies major restoration campaigns that preserve and highlight both the specificity of the monument from a historical point of view and its architectural and artistic treasures.
In January 2022, the City of Avignon launched the first phase of a major conservation and restoration plan for the painted decorations of the Palais des Papes, which will be spread over several years. The aim is to preserve and enhance this medieval heritage of exceptional value.
Books to better understand "Monument of history: building, rebuilding the Palace of the Popes – XNUMXth-XNUMXth century"
On the occasion of the eponymous exhibition presented in the Grande Chapelle in 2002, a very complete catalog written and documented by Dominique Vingtain, Curator of the Palais des Papes. "Palace of the Popes, photographs"
A 128-page picture book entirely devoted to photography, where the beauty of the Palais des Papes is revealed in all its diversity thanks to the photographs of Fabrice Lepeltier, with texts by Dominique Vingtain, curator of the Palais des Papes from 1993 to 2022.
Julien Gallon
j.gallon@avignon-tourisme.com
Julien Gallon
j.gallon@avignon-tourisme.com
Good to know
The Conservation Department archives and references a wide selection of heritage photographs, accessible for scientific or historical documentation projects. To access it, simply click on the link opposite and follow the instructions.